Loop Box
Create your own hits with Loop Box!
Record your own sounds or use the extensive sound library to make the music you want.
When your hit is ready you can save it as an uncompressed high quality wave file.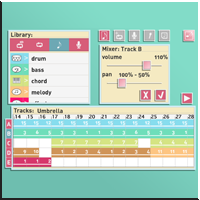 Library
The library holds all the building blocks you need to create your track.
Before you use a sound or loop in your project, you can listen to them. Simply select a loop or sound in the library and tap the play button.
When you select a sound or loop in the library, an info box will poop up to the right with options to delete, duplicate or edit the item.
See info box figure below.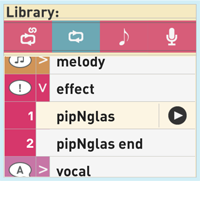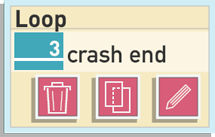 Menu
• return to project list
• add new loop
• record new sound
• edit tempo
• export/share project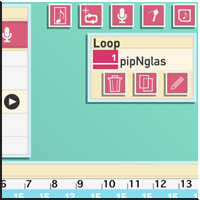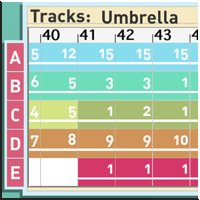 Tracks
This is where it all happens. Tap a track slot to place a loop you selected in the library.
If you tap where there is already a loop present, it removes it from the slot.
Tap the top of the tracks where the loop numbers are to place your marker there, if you want to play your hit from a later position.
Tap a track letter on the left to open the mixer and set volume and pan for the track.
See track and mixer figures below.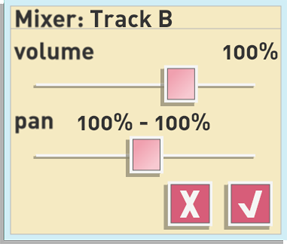 Loop Editor
To create a new loop just tap the add loop button in the menu.
If you want to edit one of your loops, you can select it in the library and tap the edit button in the info box.
You can also duplicate an existing loop by selecting it in the library and tapping the duplicate button in the info box.
With the loop editor open you can tap the sound slots to add a sound. If a slot is not empty, the first tap will remove the existing sound.
See loop figure figure below.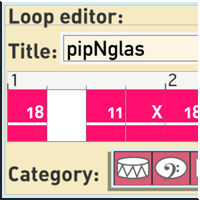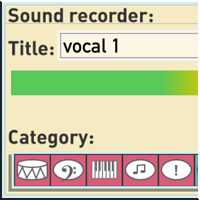 Sound Recorder
Record your own sounds and effects.
Make sure you have permitted microphone usage.
If you accidentally disable the microphone, you can go to settings and re-permit microphone for the app.
See recorder figure below.
Sound Editor
Edit your own recordings.
You can adjust the volume with the slider.
You can trim unwanted parts of your sound with the handlers for start and end.
If, for example, you have a sound that builds up and you want the beat to be placed at the climax and not the start, you can place the "beat" handler where you want the beat to be.
See sound editor figure below.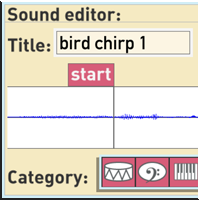 Privacy and Legal
Loop Box is a stand-alone app and does not store data outside the app.
No user data is collected or stored.
No data is shared with any third party.
When exporting projects to wav file or for sharing, a copy is stored on a server for 24 hours.
Please note that any recordings you make is legally your responsibility in terms of copyrighted material etc.
See more about privacy on
FARVER